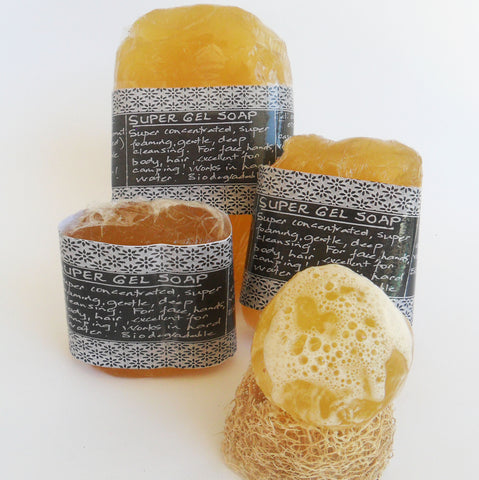 Super Gel Soap - Clear
About
A super concentrated gel soap that can be used for any cleansing - shaving, body and face and more. Ever so gentle as a face wash, cleaning and closing opened up pores. It gives a very close shave and creates a lot of lather.
Ideal for travelling and camping, as it can also be used on clothing and is tough enough for stain/spot removal. Brilliant in hard water. As a householder cleaning spray/dishwashing liquid (melt 100grm of soap into 1litre of hot water in a spray bottle) it is and completely biodegradable and can be used on bath, basin, kitchen and loo, whilst keeping your hands in good condition.
Available in a 80g, 150g or 300g squishy bar shaped gel soap - kids love it! Available as a clear soap or with Activated Charcoal.
Please note: Gel Soap may whiten in colder weather. This does not change the effectiveness of the soap. Keep your Gel soaps raised on a soap dish, soap spike or a piece of loofah. This will ensure that they last as long as possible.
Products are ready for posting in a maximum of 5 days.
Ingredients & Properties
Ingredients: Olive Oil 50%, Coconut Oil (50%) (Saponified)
Olive Oil: deeply moisturising, has anti-oxidant properties which fight free radicals, anti-inflammatory properties.
Coconut Oil: Its numerous minerals and nutrients improve elasticity in the skin, reducing wrinkles, and are anti-oxidant and moisturise the hair and skin. Helpful for acne as well.
100% handmade, using only natural ingredients – keeping it simple!
Vegetarian, non-toxic and biodegradable
No petrochemicals, parabens, mineral oils, colourants, flavourants or artificial preservatives
---
We Also Recommend
---