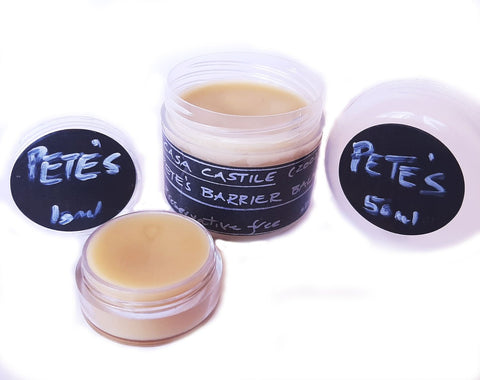 PETE'S Barrier Balm
About
Pete's Xtreme Sports Barrier Balm - super concentrated and healing for lips, bottoms, heels, hands, wounds and bites. Excellent for dry, chapped skin, and a superb lip balm. Pete's protects from wind burn and is a great barrier balm to prevent chaffing during sports. Pete's was developed for and is endorsed by Peter van Kets, the South African endurance adventurer!
Gently removes worrisome 'irritations' which pop up on the skin. Must be applied 3 x per day for approx a month or 2 for best results. 
Apply frequently and liberally to affected areas. Available in a 10ml tub and a 50ml jar.
Products are ready for posting in a maximum of 7 days.
Ingredients & Properties
Ingredients: Olive Oil, Vitellaria Paradoxa (Shea Butter), Jojoba, Beeswax, Lanolin and Calendula Officianalis (Calendula/Marigold), Styrax Benzoin (Benzoin), Boswellia Carteri (Frankincense) Essential Oils
Olive Oil: deeply moisturising, has anti-oxidant properties which fight free radicals, anti-inflammatory properties.
Jojoba: As it is a wax, Jojoba creates a barrier on the skin, protecting it from external elements, sealing in moisture without blocking the pores. Superb for chapped lips and dry cuticles. Gives considerable relief to the itching of eczema and psoriasis.
Beeswax: Forms a protective barrier on the skin. Contains Vitamin A which softens and moisturises dry skin. It inhibits the growth of bacteria and fungus on the skin.
Lanolin: Good for extremely dry or chapped skin, it draws moisture from the air into the skin, and creates a barrier preventing moisture from escaping the skin. Lanolin is a cruelty free product extracted from sheep's wool.
Shea Butter: Deeply moisturising, it softens and strengthens the skin against ageing and wrinkles. It heals a myriad of skin conditions and absorbs the nutrients in skin care products much deeper into the skin.
Calendula: It is powerful skin healing properties, healing stubborn wounds, acne, ulcers, bed sores, eczema, rashes and insect bites. Anti-inflammatory, it also softens the skin.
Frankincense: Heals scars and wounds, boils and acne. It nourishes dry, chapped skin and is antiseptic.
Benzoin: Helps to heal wounds and infections due to its antiseptic properties. It has been used for centuries for treating chapped, irritated skin. It softens the skin and is anti-bacterial.
100% handmade, using only natural ingredients – keeping it simple!
Vegetarian, non-toxic and biodegradable
No petrochemicals, parabens, mineral oils, colourants, flavourants or artificial preservatives
---
We Also Recommend
---