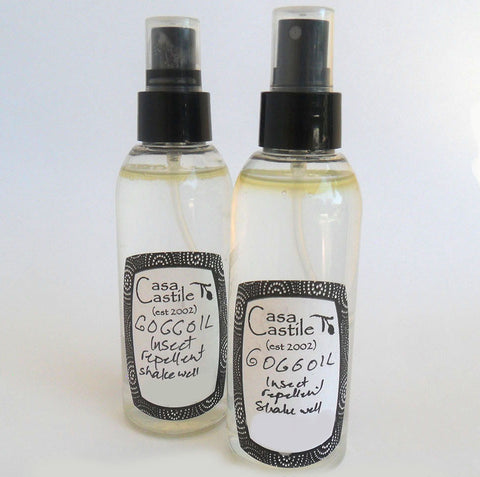 Goggoil Insect Spray
About
Goggoil is an incredible all natural, non toxic insect repellent spray. Prevents mosquito, flea and tick bites in humans and pets. Made with five essential oils, including South African Wilde Als and Khakibos, this is the repellent to beat local goggas and bugs!
Available in a 150ml spray bottle.
Please note: Shake vigorously before using, as we do not add alcohol to our products to disperse the oils (it is very drying to the skin). Do not spray in eyes.
Products are ready for posting in a maximum of 7 days.
Ingredients & Properties
Ingredients: Rain water with Essential Oils of Lavandula Augustifolia (Lavender), Cymbopogon Citratus (Lemongrass), Tagetes Minuta (Khakibos/Marigold), Juniperus Communis (Juniper) and Artemisia Afra (Wilde Als/African Wormwood)
Lavender: A well known insect repellant due to its insecticide and parasiticide properties. Also prevents and treats lice, and adds a beautiful scent to this spray.
Lemongrass: is antimicrobial, antibacterial and antifungal, it deters insects and is good for aching muscles.
Khakibos: Well known as an insect repellant and traditionally used in Africa to repel flies and mosquitoes.
Wilde Als: Excellent in sprays to repel fleas on humans and animals.
Juniper: Repels insects and soothes insect bites.
100% handmade, using only natural ingredients – keeping it simple!
Vegan, non-toxic and biodegradable
No petrochemicals, parabens, mineral oils, colourants, flavourants or artificial preservatives
---
We Also Recommend
---