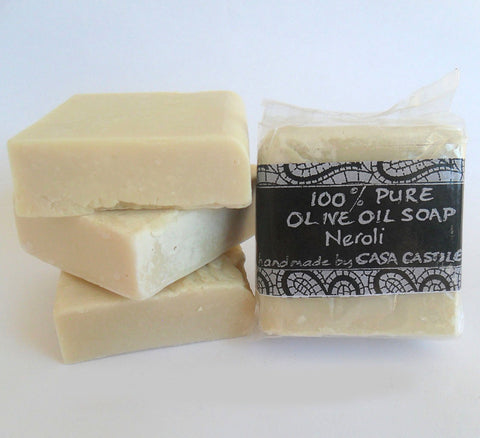 Geranium Olive Oil Soap Bar
About
A pure Olive Oil soap bar with the rich floral of Rose Geranium (Pelargornium). It has a softening and smoothing effect on the skin, being particularly beneficial for older, dryer skins as well as balancing hormones. 
Please note: As our soaps are all hand cut they vary between 90-100g. Keep your Olive Oil soaps raised on a soap dish, soap spike or a piece of loofah. This will ensure that these hard, creamy, olive oil soap bars are as long-lasting as they can be.
Products are ready for posting in a maximum of 7 days.
Ingredients & Properties
Ingredients: Olive Oil (saponified), Citrus Aurantium (Neroli) essential oil
Olive Oil: deeply moisturising, has anti-oxidant properties which fight free radicals, anti-inflammatory properties.
Geranium Essential Oil: Amazing for all skin care.
100% handmade, using only natural ingredients – keeping it simple!
Vegan, non-toxic and biodegradable
No petrochemicals, parabens, mineral oils, colourants, flavourants or artificial preservatives
---
We Also Recommend
---