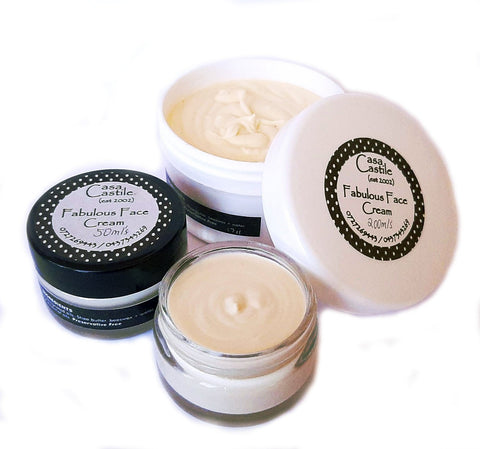 Fabulous Face Cream
About
Fabulous Face Cream is a super rich, nourishing moisturiser that can be used day and night. It is completely natural, preservative free and non-pore clogging. It contains four essential oils which are superb for skin care with anti-ageing, nourishing properties. This naturally scented powerful product has natural sun filtering, anti oxidant properties and prolonged use lightens blemishes. A must for your beauty routine!
Available in a 50ml glass jar and a 200ml plastic tub refill.
Products are ready for posting in a maximum of 7 days.
Ingredients & Properties
Ingredients: Prunus Amygdalus (Sweet Almond Oil), Prunus Armeniaca (Apricot Kernel Oil), Rosa Rubiginosa (Rosehip Oil), Cocos Nucifera (Coconut Oil), Vitellaria Paradoxa (Shea Butter), Beeswax, and Styrax Benzoin (Benzoin), Chamaemelum Nobile (Roman Chamomile), Pelargonium Graveolens (Rose Geranium), Lavandula Augustifolia (Lavender) Essential Oils 
Sweet Almond Oil: A natural sunlight filter and rich in Vitamins D&E. It penetrates deeply, cleaning the pores and preventing inflammation and acne.
Apricot Kernel Oil: An antioxidant and rich in Vitamin E, it moisturisers the skin, and is especially helpful for oily skin. Firms and tones skin and soothes eczema.
Rosehip Oil: Rich in Vitamin C and excellent for mature skin. Heals the damage from the sun, spots, scars and wrinkles and improves moisture in the skin.
Shea Butter: Deeply moisturising, it softens and strengthens the skin against ageing and wrinkles. It heals a myriad of skin conditions and absorbs the nutrients in skin care products much deeper into the skin.
Coconut Oil: Its numerous minerals and nutrients improve elasticity in the skin, reducing wrinkles, and are anti-oxidant and moisturise the hair and skin. Helpful for acne as well.
Beeswax: Forms a protective barrier on the skin. Contains Vitamin A which softens and moisturises dry skin. It inhibits the growth of bacteria and fungus on the skin.
Geranium: An astringent which tightens wrinkles and loose, saggy skin, heals wounds and scars, and aids in reducing body odor.
Roman Chamomile: Gentle on sensitive skin, it is an anti inflammatory which reduces redness and irritation caused by acne, allergies, eczema and dermatitis. Reduces scars and spots
Benzoin: Reduces wrinkles, helps wounds and infections due to its antiseptic properties. Lifts the mood, relieving depression, and has been used for centuries for spiritual purposes.
Lavender: great for treating acne, psoriasis, wrinkles and accelerates the healing of scars. Pain relieving, calming and relaxing, lavender is also superb for alopecia and preventing hair loss. It is an all rounder which is incredibly versatile.
100% handmade, using only natural ingredients – keeping it simple!
Vegan, non-toxic and biodegradable
No petrochemicals, parabens, mineral oils, colourants, flavourants or artificial preservatives
---
We Also Recommend
---