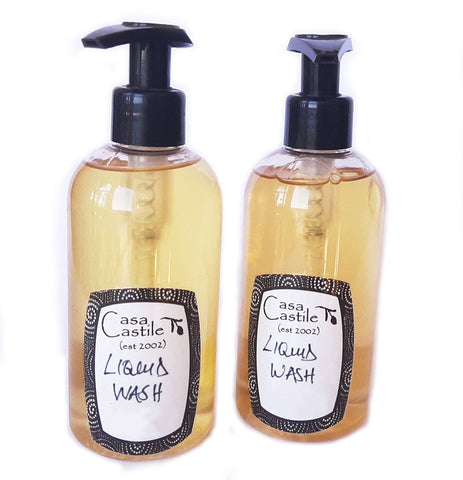 Castile Liquid Soap
About
This shower gel or Liquid Soap is a versatile, high Olive Oil content liquid wash with just enough Coconut Oil to create a lovely lather. Excellent for hands, body and shampoo (when blended with Rosemary). Kind and gentle to skin to skin and hair.
Choose from an unscented soap or add the following essential oils: Geranium, Rosemary, Neroli, Lemongrass and Lavender, or create your own blend of the above. Or, for scent layering, why not add your favourite perfume to our unscented soap and blend? We also offer a Cannabis liquid wash which is great for eczema, psoriasis and skin cancer. 
Available in a 250ml bottle with a pump.
Please note: Liquid soap will whiten, and may possibly thin in colder weather. This does not change the effectiveness of the soap.
Products are ready for posting in a maximum of 5 days.
Ingredients & Properties
Ingredients: Olive Oil 80%, Coconut Oil (20%)(Saponified), Mineral Salt (Thickener) and Essential Oils of your choice
Olive Oil: deeply moisturising, has anti-oxidant properties which fight free radicals, anti-inflammatory properties.
Coconut Oil: Its numerous minerals and nutrients improve elasticity in the skin, reducing wrinkles, and are anti-oxidant and moisturise the hair and skin. Helpful for acne as well.
Geranium: An astringent which tightens wrinkles and loose, saggy skin, heals wounds and scars, and aids in reducing body odor.
Neroli: a natural antiseptic, calming and mood – lifting, it promotes new cell growth and is a natural perfume. It fades away acne spots and scars.
Lemongrass: is antimicrobial, antibacterial and antifungal, it deters insects and is good for aching muscles. It is mentally uplifting, relieving depression and anxiety.
Lavender: great for treating acne, psoriasis, wrinkles and accelerates the healing of scars. Pain relieving, calming and relaxing, lavender is also superb for alopecia and preventing hair loss. It is an all rounder which is incredibly versatile.
Rosemary: Promotes hair growth, and naturally cleans greasy hair, whilst eliminating dandruff. Is helpful for dermatitis, acne and eczema and regulates sebum production in the skin.
100% handmade, using only natural ingredients – keeping it simple!
Vegan, non-toxic and biodegradable
No petrochemicals, parabens, mineral oils, colourants, flavourants or artificial preservatives
---
We Also Recommend
---