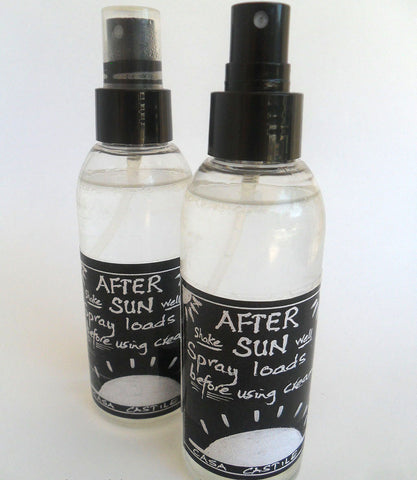 After Sun Spray
About
This After Sun Spray soothes sun burn instantly, with just two essential oils that work powerfully to relieve the pain of sunburn, reduce inflammation and regenerate the skin. The pure rain water added to the spray moisturises skin that urgently needs it. No alcohol added.
Available in a 150ml spray bottle. Products are ready for posting in a maximum of 5 days.
Please note: Shake vigorously before using, as we do not add alcohol to our products to disperse the oils (it is very drying to the skin).  Do not spray in eyes.
Ingredients & Properties
Ingredients: Rain Water with Essential Oils of Rosmarinus Officinalis (Rosemary) and Pelargonium Graveolens (Geranium)
Geranium: Geranium is both gentle and powerful in treating burns, including those caused by the sun. It heals wounds and scars and is anti-inflammatory.
Rosemary: Is a well known skin regenerator, and is antiseptic, anti –oxidant and has gentle pain killing properties.
100% handmade, using only natural ingredients – keeping it simple!
Vegan, non-toxic and biodegradable
No petrochemicals, parabens, mineral oils, colourants, flavourants or artificial preservatives
---
We Also Recommend
---