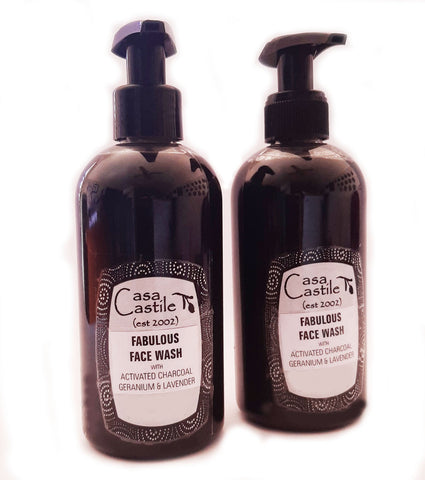 Activated Charcoal Facewash with Geranium
About
This Activated Charcoal Face Wash is an excellent solution for teenage and adult skin problems such as acne, blackheads and oily skin. Activated Charcoal is a well recognized detoxifier and it clears inflammation in the skin. Added to our pure liquid soap along with the astringent, healing properties of Geranium it is a gentle, yet deep cleaning face wash.
Available in a 250ml bottle with a pump. Products are ready for posting in a maximum of 5 days.
Please note: Liquid soap will whiten, and may possibly thin in colder weather. This does not change the effectiveness of the soap.
Ingredients & Properties
Ingredients: Olive Oil 80%, Coconut Oil (20%), Activated Charcoal (Saponified), Mineral Salt (Thickener) and Pelagornium Graveolens (Geranium) essential oil
Olive Oil: deeply moisturising, has anti-oxidant properties which fight free radicals, anti-inflammatory properties.
Coconut Oil: Its numerous minerals and nutrients improve elasticity in the skin, reducing wrinkles, and are anti-oxidant and moisturise the hair and skin. Helpful for acne as well.
Geranium: An astringent which tightens wrinkles and loose, saggy skin, heals wounds and scars, and aids in reducing body odor.
Activated Charcoal: Draws impurities and toxins out of congested skin, it is also antibacterial which helps alleviate skin infections and prevents them from happening.
100% handmade, using only natural ingredients – keeping it simple!
Vegan, non-toxic and biodegradable
No petrochemicals, parabens, mineral oils, colourants, flavourants or artificial preservatives
We welcome queries for bespoke and bulk orders - please enquire.
---
We Also Recommend
---